Residential Care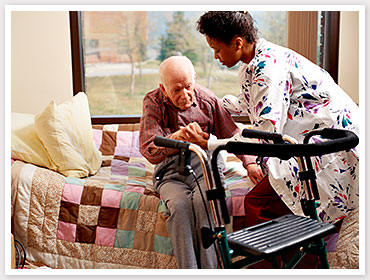 Residential Care, also known as long term care or complex care, is for those who require 24 hour monitoring and on-going assistance with daily living. The need for residential care may stem from cognitive deficits, lack of independent mobility, or inability to dress, bathe, or use the washroom without assistance; and where the combination of needs requires the availability of care at any time during the day or night.
The safety and well-being of residents is our paramount concern. We have Registered Nurses, Practical Nurses and Registered Care Aides on duty 24 hours a day to attend to the residents needs and provide care and support.
Our residential care neighbourhoods offer private bedrooms with a hospital bed, an armoire for clothing.
Residents and families are encouraged to bring a few small pieces of furniture, pictures, lamps and other favorite personal items.
There are fourteen rooms in each of our eight neighbourhoods with four neighbourhoods having one double room.
The two floors of care have four neighbourhoods each with access to lounges, balconies and patios.
Each neighbourhood has a dining and lounging area, a fire place, a high definition smart TV and space for activities and socializing.
Residential Care Services:
Twenty four hour care is provided by Registered Nurses, Licensed Practical Nurses and Registered Care Aides
Administration of medications by a Registered Nurse or a Licensed Practical Nurse
Daily personal hygiene care and a weekly bath or shower
Help with clothing selection and dressing
Three customized meals plus snacks daily
Ongoing monitoring by a Registered Dietician
Assessment and on going monitoring and assistance by a Physiotherapist and/or Occupational Therapist

Daily activities designed to meet the needs and wants of residents facilitated by a team of Therapeutic Recreation Specialists

Weekly entertainment, monthly programs such as bus outings, homemade breakfasts, baking and games

Intergenerational programs

Special events throughout the year for holidays and birthdays

Pet therapy and Music therapy services

Emergency call buttons in every resident room and bathroom
Secure entry and exits while allowing residents to move freely on their floor
A laundry room in each neighbourhood for laundering of residents personal clothing. Linens and towel are done in the main floor laundry room
Access to common areas and shared amenities, including:
Beautifully landscaped, secure patios and gardens
Relaxing lounges for resident and family visits
Spacious bright solarium style lounges
Guest suite for out of town visitors
Family kitchen for personal entertaining and activities
Main floor lounge with fireplace, library and computer corner
Bistro for residents, tenants, families and guests to enjoy coffee, snacks or lunch
Full service hair and barber salon
We offer the option of paying privately for your care or working with Fraser Health for funding assistance. For more information about complex care and/or the availability of our private pay rooms please contact us.